About Me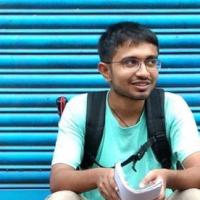 Malay is an electrical engineer, interaction designer, and a design researcher based out of Mumbai. He has worked in the domains of behaviour change, service design, art installations, tangible interactions, and human computer interactions.
Research Interest
Currently I am pursuing my PhD studies under the supervision of Prof. Girish Dalvi in the domain of game studies. My PhD thesis focuses on design elements of player experience in narrative-ridden board games. I intend to create a framework and a language to represent gameplay and analyse it for the desired player experiences.
Apart from my PhD thesis, I am interested in designing for motivations, media theories, design and behaviour change, meaning-making in interactions.
Publications
Dhamelia, M., & Dalvi, G. (2022). Designing Fun: A Method to Identify Experiential Elements in Analoog Games. Digital Games Research Association International Conference, DiGRA 2022.

Dhamelia, M. (2021). Characterising Gameplay Experience in Abstract Board Games. CHIPlay 2021 #DoctoralConsortium

Dhamelia, M., & Dalvi, G. (2021). Pleasures in Games: Conceptual Analysis of Fun in Games. 52nd International conference on Simulation and Gaming, ISAGA 2021. #FullPaper

Dhamelia, M., & Dalvi, G. (2021). Exploring Multi-Cultural Notions of Fun in Games. Affecting Game Spaces, The University of Edinburgh. #Workshop

Dhamelia, M., & Dalvi, G. (2020). Player Experience: Design and Research. Encyclopedia of Computer Games and Graphics #Article

Dhamelia, M., & Dalvi, G. (2019). Cultural domain analysis for soundscape assessment. In Smart Innovation, Systems and Technologies (Vol. 134), ICoRD 2019. #FullPaper

Sharma S, Mahamuni R, Lobo S, Das B, Hirom U, Verma R, Dhamelia M. CRAFT CHANGE: BEHAVIOUR PROGRESSION FRAMEWORK–EVALUATION IN QUASI PARTICIPATORY DESIGN SETTING #FullPaper

Dhamelia, M., & Dalvi, G. (2018). NudgeEntrance: Domestic intervention to change hand washing behaviour. 2018 IEEE 6th International Conference on Serious Games and Applications for Health, SeGAH 2018. #FullPaper

Bhat, G. K., Chandra, A., Dhamelia, M., Teketi, R., & Kadam, D. (2017). De-convolving migration methodology via detailed assessment and cognitive learning-Generating migration assessment report. 2017 IEEE International Conference on Cloud Computing in Emerging Markets (CCEM), 119–123. #ShortPaper

Vora, M., & Dhamelia, M. (2015). Load and Audio Visual Control using Brain Computer Interface. International Conference on Multidisciplinary Research & Practice, 1(7), 160–161. #Poster